In memory of "the woman behind the man"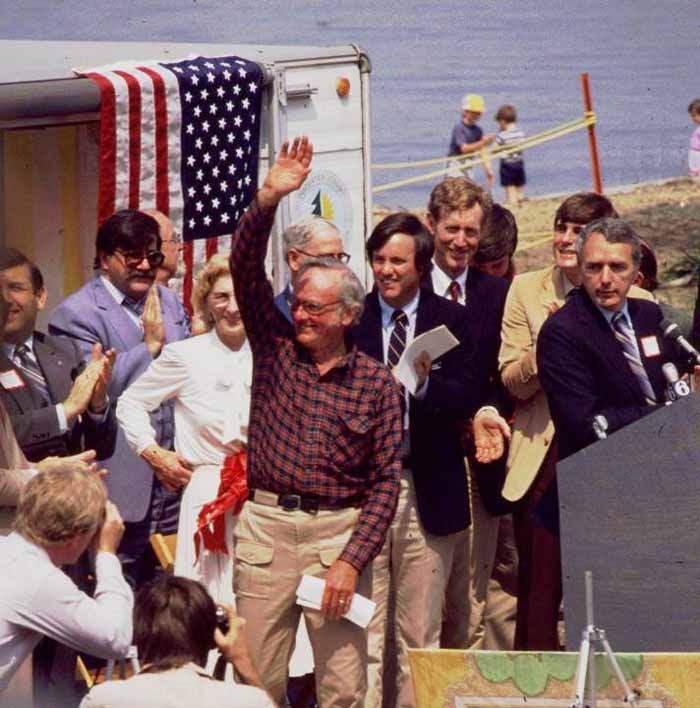 (Note where the cameras are aimed!)
The following article written by Gloucester County newsman, Bob Shryock, was written near the end of Marvin's history-making circumnavigation. Although written in 1984, it is a fitting tribute to the woman behind this man.
Behind every happily married man who decided to take a year and a half out of life to sail around the world without navigational instruments there has to be a woman who is more understanding than most women are expected to be.

Blanche Creamer certainly fits into that category. But even Mrs. Creamer is not sure she would want to go through it again.

"If it came to another trip around the world, I'd say we have to sit down and open communications," says Mrs. Creamer, laughing.

Blanche, perhaps the most famous "sailor's widow&" since Mrs. Christopher Columbus, has been waiting for Marvin Creamer to come home for 17 months.

She will be reunited with her amazing adventurer husband sometime in the middle of May when he and his crew of three sail up the Delaware River in the Globe Star to National Park, their final port. But even then, she will have to share Marvin. An enormous crowd is expected to greet and honor him in one of Gloucester County's biggest homecomings ever.

Mrs. Creamer's last 17 months have not been altogether easy.

"What I miss is his companionship, because when he is home, he is very much at home," the Glassboro resident says.

But there has been plenty to occupy her time.

She helped assemble 150 pounds of supplies for Marvin and his crew on two different occasions.

She spent three weeks with him in Australia.

She wrote 22 letters that he received when he arrived in South Africa.

She visited son Kurt in California, daughter Lynn in North Carolina, daughter Andra in Arizona, "and my extended family here."

"I watch a little TV, read newspapers and magazines, keep a fire in the fireplace all winter, listen to the North Atlantic weather, cook for myself, get invited out to dinner a lot, and fix as many things around the house as I'm able to fix. But I have saved the garden tractor for him."

"I've also gotten media calls. It's interesting to see how the media operates. They've been good to us and there's been no criticism by them, but once in a while they are a bit inaccurate."

The Creamers have been married 38 years. Blanche had no inkling in 1946 just how adventurous her husband would become.

"I never had an idea he would do this. I think it just happened gradually. But Marvin always had projects. We drove to Alaska, took a trailer to Mexico. He went around the world in an airplane. He had a strong will to do what he does, and it wouldn't be fair if I tried to stop him.

"I've never stood in his way. Once he goes, I feel he needs my support, and I'm going to give it to him. We don't discuss it, but I think he assumes that I will be able to manage."

She worries - but not that much - when she knows he is headed into stormy weather.

"But I'm confident that he knows what he is doing. When he's gone, I'm more concerned about his general health. And I think that the most stressful I've been was when our son Kurt returned with Marvin on a 38-day trip from Ireland, because Kurt was prone to seasickness."

Blanche hasn't gone on many sailing trips herself. The Creamers did attempt a family trip to Bermuda, "but we had to stop after 150 miles because Lynn got seasick."

The magnitude of Marvin's accomplishments on occasion boggle even his wife.

"It shows what a human can do," she says, "It overwhelms me that he can know where he is without instruments. I'd be so disoriented out there. It's hard sometimes to realize what he has done."

The Creamers always have had a close sharing relationship.

"Some women say they don't want their husbands to retire but I've never said that. Marvin does what he loves to do. He's so outgoing and makes friends easily, it helps him enjoy his trips and keeps him from becoming too homesick.

"But in a 15-page letter he wrote me from the Falklands, which is the longest letter he ever wrote me, he said, "If you want me to travel by land, we will do that."

"He doesn't get depressed when he is away so long, but he told me recently that he finds himself dreaming of home."

"People already have begun asking him to go on round the world trips with them, but I have no indication from him what is next."

After 17 months, Blanche has only three or four more weeks to check off the calendar.

"The time has gone very quickly for me except for the last month.

"But I am excited about him coming home."

Career:
Marvin Creamer served as Professor of Geography at Glassboro State College (now Rowan University) from 1948 through 1977. It was during his years as a professor of geography, that he collected valuable information needed to fulfill his childhood dream of circumnavigating the globe. It was not until after his retirement as Geography Professor, however, that Marvin finally had the time and money to fulfill that dream.
| | |
| --- | --- |
| Marvin and his wife Blanche after his return in May, 1984 | |